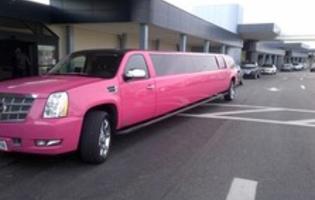 What a gorgeous limousine provided by Childers Limousine Service of Toledo. PFC Morris and family were escorted in stile with honors
Here, Buffalo Soldiers from the Cleveland, Detroit and Toledo chapter lead the escort of PFC Morris and family, with other motorcyclist following, to the banquet hall to have a homecoming celebration program.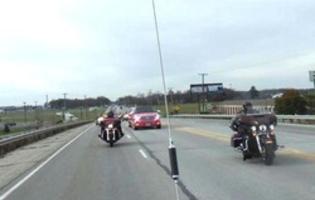 ORGANIZATION TREATS 8TH GRADER TO $500 SHOPPING TRIP, LIMO RIDE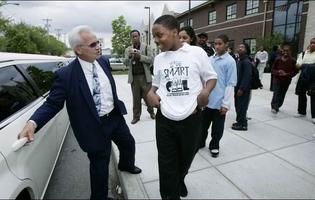 Driver Dan Collins of Childers Limousine Service greets Daryl Long, Jr., the 8th grader's mother, and his stepfather before taking them to the mall for a $500 shopping spree. Young Long was being rewarded for his academic turnaround this year. Childers Limousine Serivce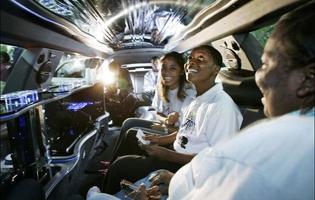 Daryl Long, Jr., checks out the limousine's interior with Angela Lucas, left, executive director of The Kings Kids Academy.
Midway through eighth-grade language arts class yesterday afternoon at Robinson Middle School, Daryl Long, Jr.'s teacher received a call from the office.
On the line was Daryl's guidance counselor. She wanted him to come down to the school's library. Right now.
Daryl, 15, didn't know the counselor was standing with his mother, Ann Kelley, who had been called in about her son's behavior. She arrived with a leather belt, her prop on this occasion. "Hopefully, he don't go hysterical," his mother said.
Young Daryl didn't get hysterical, though he did turn speechless upon finding himself face-to-face not only with his mother, but a crowd of news cameras.
That's when Angela Lucas, the executive director of The Kings Kids Academy mentoring organization, let him in on the ruse.
No, Daryl was not in trouble. Rather, he was being honored and rewarded for his remarkable academic turnaround from Ds and Fs to As and Bs over the course of a year.
Mrs. Lucas handed him a $500 gift card for Westfield Franklin Park, and let drop that the limousine to drive him and his mother and stepfather to the mall was waiting outside.
By then, Daryl's earlier look of apprehension had melted into a smile. His mother began to cry. "I am so proud of you," she said.
The surprise and shopping trip was the teamwork of the nonprofit, Toledo-based Kings Kids Academy and the Young Professionals chapter of the Greater Toledo Urban League.
Mrs. Lucas said the idea was inspired by the reality television show Oprah's Big Give, on which contestants travel the country bestowing thousands of dollars on those in need.
Yesterday marked the first Kings Kids giveaway, awarded to Daryl for his positive transformation in character and academic performance. The organization plans to make several similar rewards next school year for other area students.
"We want to give them something fun, something light – a diversion for just a moment, and then they can get back to studying," Mrs. Lucas said.
She said she wanted this initial giveaway to benefit a student at a school like Robinson in Toledo's central city that serves many lower-income families.
She learned about Daryl from his guidance counselor, Patty Stephens, who noted that all of his teachers have observed dramatic improvement this school year. He has twice been named a student of the month.
Asked what inspired his turnaround, Daryl cited his mother's support, faith in God, and his decision to hang out with a different crowd with fewer troublemakers. He said he wants to be a pastor in China when he grows up so he can learn Chinese and teach children there.
Wauseon Woman "Takes It To The Streets" And Spreads The Christmas Spirit
What began as a simple idea, a small post on Facebook spread to an idea that not only helped hundreds in need in Toledo but allowed others to share the Christmas spirit. In three weeks, the event was pieced together as a success. Wurns believes, "It's up to each and everyone of us to make a difference. Everyone should adopt the idea that they need to leave this world a better place than they found it because it's going to take everyone to do it. Every volunteer including kids made that day happen."
The group is planning an event next year for Fulton County and possibly Toledo again. You can access the information at their Facebook page-"Take it to the streets."
Wurns would like to thank the following sponsors for their support of this year's events: Liberation Mobile Music, Candids by Shamra, Chief's Supermarket, Nabisco – Mondelez International, Worthington Steel Delta, 3B Productions – Joe Barton, Walmart- Wauseon, Believe Center – Toledo, Childers Limousine Service Toledo, Seagate Food Bank – Deb Vas, Executive Director of Community Relations – Linda Alvarado, Premiere Entertainment Karaoke – Perrysburg, Allied Moulded Products Inc., Bimbo Bakeries, Lewis Bakeries, T&R Rentals LLC – Rick Espino, Outback Steakhouse – Toledo, T.G.I. Friday's – Toledo, Little Debbie, Seyfert's Potato Chips, Cub Scout Pack 681 – Morenci, Johnston's fruit Farms – Swanton, Dennis Potato farm, Los Mariachi's, Southern Breeze Salon, Beverlee Hillz Resale Boutique, Hoppin & troppin' 4H Group, Suzy Q's Concessions, St Joe Sand and Gravel LLC, Amigo's Pizza, Frosty Haus Storage, Todd's Odd Jobs/B&R painting & Powerwashing, Pizza Hut – Napoleon, Dunn Funeral Home, Dental Heath Associates – Swanton, Dental Excellence – Napoleon, Bowling Green Pediatric Dental – Dr Pace Dr. Sheperd DDS, and Marco's Pizza in Toledo.